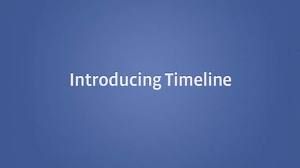 If you are a regular Facebook user, you know how much people love to complain about upgrades and changes to the platform. And another big change is on the horizon for business pages on Facebook. The timeline feature created a big stir among personal profile users and timeline will soon no longer be just an option for Facebook business pages. On March 30, all business pages will automatically transfer to the new timeline format. Facebook currently lets you try it out and switch back to your old tab format, so now is a good time to make the switch.
So what makes the timeline format different from the old business page format?
1. Big ol' picture up top
The timeline format lets you put a large photo across the top of your page; it's like a banner. You'll still have a profile picture, but this new cover photo brings an entirely new feel to the page. Facebook does not intend for you to use that space for advertisements, though, so make sure you understand the restrictions. That photo is meant to be inspiring for your brand and evoke the mood you want to convey for your brand.
2. Page lay-out
Businesses will no longer be able to control what visitors to their pages see first. No more landing pages. No tabs. When people come to your page, they see your timeline. So what if you want to point visitors to a current deal like you used to do with a landing page? You can highlight a recent status update or post, use the new pinning feature (we'll get to that next) or -- of course -- buy an advertisement.
3. Pinning & Highlighting Posts
In lieu of a landing page, the new Facebook timeline format lets you highlight and "pin" posts. When you highlight something, it displays it more prominently across your page. You can also pin something to draw attention to it for your visitors and it will be pinned for seven days. Another added edit feature is that you can change the date of something you posted. In the old format you could only delete it and post again.
4. Messages
This new added feature makes me jump with joy. I cannot tell you how long I have been waiting to be able to send and receive messages on behalf of business pages. In the previous format, visitors would have to publicly post to your wall in order to ask a question that they might otherwise have asked via email. Additionally, sometimes you want to answer questions and follow-up on comments and posts offline via message. And now you can. Hooray for this new feature.
5. Admin Panel
Another handy new tool in this new format upgrade is the admin panel (seen only by administrators) that appears at the top of your business page. All the information provided in the panel was there before, but now it's much easier to track your reach and activities in one place.
So other than having to get used to a new format, is this change bad?
No. It is an attempt at providing more authentic activity. It does mean that many marketers will need to reframe their approaches to how they engage fans. This new timeline format forces businesses who used Facebook simply as a place to post advertisements to really tell their stories and connect with their customers and visitors. It encourages fresh and new content. It offers an opportunity to build brand awareness and loyalty through more genuine activity. Facebook is, after all, a community that values authenticity so this just requires business pages to join the party.