We receive lots of questions about posting the same content on both Twitter and Facebook. And both social media platforms have plug-ins to let you do that easily. That means when you post to Facebook, it will automatically syndicate to Twitter via a new tweet. And when you tweet, it will automatically syndicate to Facebook as a new post. So you get to kill two birds with one stone, right? You get to be active on both platforms but only have to post to one. A short cut! Not exactly. I know there are lots of opinions on this time saving approach, but I am not a fan.
And here's why: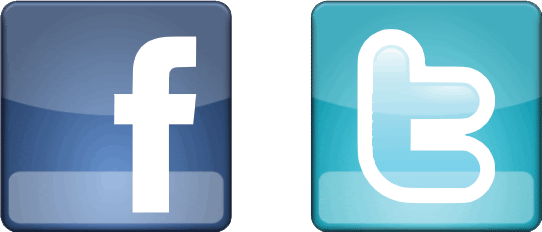 1. The platforms have different uses.
People use Facebook and Twitter for different reasons. And how people interact on the platforms is different. Facebook is a social place for community building. There are lots of other things to do than just post updates or links. You can play games, write journal notes, create event invitations, look at pictures, etc. It's like someone's living room. Tweeting, on the other hand, is known by many as microblogging. It's like sending out a text message to a bunch of people. Twitter is all about sharing news and sharing it quickly. A tweet that is few days old will get lost in the stream of tweets and quickly forgotten. A post on Facebook, on the other hand, will appear on your wall for a long time. And someone perusing your wall months later will still be able to see it. And it's perfectly normal to send out 15 tweets in a day. If you sent that many posts on Facebook, you may find that many block you from their newsfeeds.
2. The posts & tweets don't translate well.
Tweets have to be 140 characters or less. That alone changes how you deliver the message. You leave out prepositions and articles and shorten words to fit everything in. And you use tools like the # and @ to target your tweets. When those tweets post on Facebook, there isn't much love for the robot talk. People know you are automatically syndicating your content. Facebook posts can be much longer than 140 characters. And you get to see the groovy thumbnail pic that comes with a link which makes people more inclined to click on it. When your post automatically syndicates to Twitter, whatever is past 140 gets cut off. There also are no #s or @s to give your tweet some meat. Anyone interested would have to log onto to Facebook to see your whole post or click on the link you provided (most people will not do that; they are on Twitter to get information fast). And there is a link to Facebook in the tweet that, again, screams "I'm taking a short cut" to your followers.
3. It's redundant.
Not everyone who is on Facebook is on Twitter and vice versa. But those who follow you on both will find your redundant messages annoying. What you post and how you post it should be different on each platform, so redundancy not only can annoy people but it won't do much to build your following or your brand loyalty.
Social media activity is all about authenticity. You need to provide relevant content in a genuine way that is appropriate for each platform on which you post. And automatically feeding one thing to the other is the opposite of genuine. More is not necessarily better in this case. If you have limited time to dedicate to social media, it is best to stick with one platform and do it right.