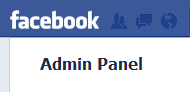 A couple weeks ago, I posted about the upcoming transition for all Facebook business pages to the new timeline format. And that all happened on March 30. If you haven't looked at your Facebook page lately, it looks a bit different. To learn more about the changes, take a peek at my blog post from March 21.
With the new timeline format, businesses are encouraged to really connect with their current and potential customers in a more authentic way. The format means that businesses will have to keep their content fresh and use their pages as more than just a place to put coupons or advertisements.
Among the things I mentioned in my previous post that I was really excited about was the admin panel. It's one of the first things you'll notice if you are an administrator for your business page. It's right up top and can be easily hidden from your view when you don't need it. And although this information was available before, this admin panel makes it easy for you to efficiently manage and monitor your page and stay engaged. It's all in one panel, so you don't have to dig around.
What's on the panel?


Manage, Build Audience, Help & Hide
These are the tabs on the upper right of the admin panel. The "Manage" tab let's you edit your page, see your activity log, view users you have banned and is where you click to use the page as your business (rather than as yourself). The "Build Your Audience" tab immediately lets you invite email contacts or friends, share the page or create an advertisement. You know what the "Help" tab is. And the "Hide" button just removes the big admin panel from your screen so you don't have to scroll down to see your page.
Notifications
You receive notification when things happen with your page -- someone posts on the wall, comments, likes or shares something, comments on something you commented on via another page, emails you, etc. A red tab with a number will appear next to "Notifications," followed by a list of those activities.
New Likes
When you have new likes, a red tab with a number inside with appear next to "New Likes," followed by a list of those users and when they liked you. You can click "See All" to see everyone.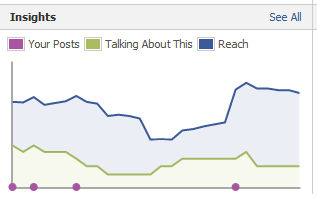 Insights
This is where the groovy stuff is. Under "Insights," you'll see a lovely graph that lays out your posts, the number of people who were talking about each post and your reach. This is a great snapshot of what happens when you post things. Again, click "see all" to get a more detailed view of everything, including check-ins and more information on the people who like you.
Messages
This box on the top right of your panel is where you will see private messages sent to the page (my favorite new feature in the new timeline format). You can also turn this off, if you don't want it. I wouldn't recommend this, though. You want to be accessible and give people another option to reach you rather than posting on your wall for all to see. It's important to note that if you currently do not let people post on the wall of your business page, you don't want to turn off the message feature too.
Page Tips
This is in the bottom right of your admin panel and contains little tips from Facebook about how to use your business page better.
That's your new fancy admin panel. Now go check it out.