We've been receiving a lot of questions lately about the latest Google algorithm update known as "Penguin." The Penguin update (also called the "webspam update") rolled out on April 24th. It was designed to target those pages that have been spamming Google with tactics that violate its guidelines, like keyword stuffing, cloaking and link schemes. The Penguin update is being confused with a Panda update that was introduced shortly before Penguin. What's the difference? The Panda 3.5 update, rolled out on April 19th, is aimed at pages that aren't of great quality (continuing with the original focus of Panda to target low quality content.) Again, the Penguin update is focused on "spammy" tactics used to gain ranking.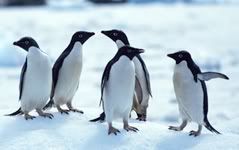 Although Penguin, Panda 3.5 and the warning shots about over-optimization and de-indexing are technically separate issues, they are in the same ballpark in serving as a wake-up call to those sites that engage in activities that steer them away from usability to the end user. Google will lose business and money if it ceases to effectively provide quality search results, so it is always striving to make the user experience better. That goal is intrinsically linked to its advertising revenue, which creates a fine line to balance upon. Google is not against businesses improving their search ranking; it just wants to minimize low quality behaviors and content that will diminish the credibility and reliability of the user experience. It does that by creating algorithmic updates to detect those fishy behaviors. And thus, an ongoing battle like the old school race between the radar and the radar detector has persisted. Does the little guy get squashed in the process sometimes? Unfortunately, yes. Are there things you can do to cushion yourself from future updates? Absolutely.
No one can predict precisely what future updates Google will implement or even who will rule the search engine world of the future. But you can develop a well-rounded sensible approach that will help you weather any future storm that may be headed your way.
We apologize for sounding like a broken record over here, but we're going to continue to emphasize the importance of a diversified strategy that always has the end user in mind. So here we go.
Our 3 tips for weathering the storm:
Diversification is Key
You must diversify both your SEO and online marketing tactics. You wouldn't invest all your money in one stock would you? Then don't put all your online marketing eggs in one basket either. Be engaged in a social media platform, maintain a PPC campaign, participate in forums for your industry, broaden your influence and reach by writing some kick-ass guest blogs, etc. Your diversification possibilities are far and wide.
Always Have the End User in Mind
You must focus on creating content and engaging in activities that are useful to the end-user. Make the user experience better. And engage in activities that will build a following for your business and engage your current and potential customers.
Be an Informed Participant
You must know what tactics you and/or the firm you hired are employing to carry out your marketing strategies. Ignorance is no excuse. If the firm you hired doesn't want to tell you what it is doing on your behalf, you probably don't want to know. Look for a firm that offers transparency and accountability.