It seems that everyone is on Twitter these days. A common question we get around here is whether clients should start tweeting. Take heart in knowing that you are not alone if your business is not yet contributing to the Twittersphere. Results of a survey released in July indicate that only about half of small businesses are using social media tools as part of their marketing strategies. And of those surveyed that do use social media, only about 4% were using Twitter.
Should You Tweet for your Business?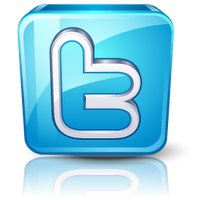 The short answer -- yes. And here's why:
1.) It's free.
Let me say it again. It is a free marketing tool for your business. There are very few things in this world that are free that can help your business grow.
2.) It is easy to use.
It doesn't take much time or effort to set up a Twitter account. Sign up, confirm, add a profile picture and a solid bio. Do some searches of people to follow and start tweeting. And you are limited to 140 characters per tweet, which keeps the whole thing casual and simple.
3.) It doesn't require a lot of time.
Sure, you could easily spend all day on Twitter. But you don't need to in order to effectively engage your current and potential client base. Ideally, you would set aside a little time each day, especially during the work week, to peruse your newsfeed, respond to a tweet and send a tweet.
4.) It's a quick an easy way to keep up with news.
Twitter is all about what is happening now. It is a great way to get a quick read on what is going on in your industry without having to peruse news sites and industry trades. You also have a good idea of what your competitors are doing.
5.) You can easily expand your reach.
On Twitter, you have the potential to reach people you wouldn't be able to reach via more traditional marketing strategies. You follow them, interact and -- hopefully -- they will follow you. Even if you are a small player in your industry, you have the opportunity to interact with and learn from the big guys on Twitter.
So is there a reason not to use Twitter?
You do not have the bandwidth or desire to interact.
Twitter doesn't take a lot of time, but using it effectively requires that you nurture your community in an authentic way. You need to have time to log in, respond and engage. Twitter is not necessarily about how many followers you have, but about the quality of interactions you have with those followers and others in your industry with whom you wish to engage. If you do not have the time or desire, consider having someone on your team or hiring someone to tweet for you.